---
With an exhausting pace of life, it is necessary to find an oasis for relaxation and rest. We would like to invite you to a romantic stay in the premises designated for this in the hotels in the center of Prague.
In the pleasant atmosphere and romantic atmosphere of the room, you can indulge your body in the sauna and the whirlpool, relax on the deck with a small form of snacks (a range of canapés and cheeses) with a bottle of sparkling wine and fresh strawberries. Of course there is a pitcher of water.
In this pleasant romantic atmosphere, you can recharge a lot of energy, for a further period of time, within 1.5 hours in wellness.
Before entering the city life, we will offer coffee and together we will arrange another term for visiting our hotel to complement your well-being and beautiful experiences in the center of the city.

We look forward to your visit and we will be happy to provide you with other services according to your wishes.
---
Stay price includes:
Accommodation for 2 persons for 2 nights in a double room
Buffet breakfast for 2 people
90 minutes of private wellness for 2 people (whirlpool bath, sauna, relaxation room)
Small refreshments (a range of canapés and cheeses) with a bottle of sparkling wine
Romantic décor with chocolate for a pleasant stay
Coffee invitation
Bathrobe and slippers in the room
Free Wi-Fi
50% discount on parking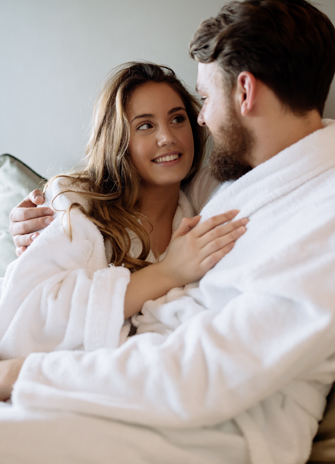 The offer is valid for stays from January 1, 2019 to December 31, 2019.
---
Not applicable for stays in dates:
19 – 22. 4. 2019
26. 4. – 10. 5. 2019
30. 5. – 2. 6. 2019
7. – 10. 6. 2019
20. – 23. 6. 2019
3. – 6. 10. 2019
6. – 8. 12. 2019
29.12. 2019 – 1. 1. 2020